Elizabeth Gollub, Ph.D, M.P.H., R.D.
Research Associate - 6400 Perkins Road - Baton Rouge, LA 70808
T:
225-763-0945 F: 225-763-3009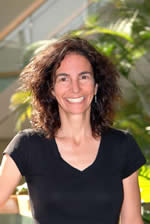 Dr. Elizabeth Gollub has recently joined the Population Science Division of Pennington Biomedical Research Center as a program evaluator. As part of an evaluation team, her role is to develop and implement performance measures and guidelines to assist the Louisiana Tobacco Control Program with meeting or surpassing its goals and objectives for a variety of projects, partnerships, and policies aimed at promoting a Tobacco-Free Louisiana.
Dr. Gollub earned her PhD in Nutrition and Dietetics from Florida International University's National Resource Center on Nutrition, Physical Activity, and Aging. She holds a Master of Public Health degree from the University of North Carolina, Chapel Hill, and she is a Registered Dietician with a Certificate of Training in Adult Weight Management. Dr. Gollub has been involved in the areas of clinical nutrition, outcomes research, program development and evaluation, education, and public/community health since 1986. Her primary professional interests stem from the interrelationships among: eating habits, fitness, disease prevention/management, and quality of life.

---
Marti Harrell
Special Projects Manager
Delcambre Seafood Farmers Market • New Iberia Creole Fresh Market

101 Burke St. • New Iberia, LA 70560
337-367-0834
• Fax: 337-367-7421
cell: 337-465-4339 •
marti@iberiabiz.org
http://www.iberiabiz.org